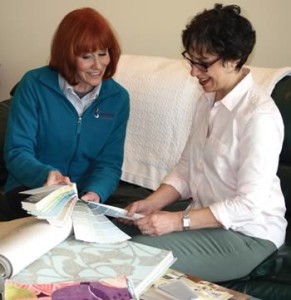 Consider hiring a color consultant or interior designer to help you make important aesthetic decisions that will impact the look and feel of your home for years to come. There are many compelling reasons to hire a local Ann Arbor color consultant or interior designer for your home.
Return on investment
Initially, it might take a few extra dollars to hire a local Ann Arbor color consultant, but you could avoid costly mistakes that will not only increase the perceived value but the actual value of your home. So whether you're looking to give the interior of your home a facelift or sell your current home, a professional designer will increase the likelihood of success and overall satisfaction.
A second (professional) opinion
A designer not only offers you his/her professional assessment of your current color scheme but an extra set of eyes that are trained to pick up on details you might have overlooked. He/she will listen to your goals and help guide you to a successful end result that everyone is happy with.
Connections
A color consultant might already have a relationship with a local Ann Arbor interior painter  and contractors whom he/she knows to do quality work. This saves you the time it would take to find a reliable interior painter whom you would trust to work inside your home.
More resources
Interior designers have access to resources, like discounts, special inventory, or preferential priority with vendors, that are not as accessible to the general public inquiring on their own.
The "wow" factor
Color consultants will give you that unique, one-of-a-kind look that will impress your guests and make you feel invigorated about the interior of your own home. They're very experienced in choosing complementary color schemes that work with the flow of an interior space.
Sell your home faster
A designer can potentially add a lot to the aesthetic of your Ann Arbor home to increase the appeal for showing and selling. This not only translates to a potentially higher sale price in a competitive market but also helps insure you wouldn't lose a buyer due to an unappealing interior painting job.
Lift the weight off your shoulders
Homeowners in Ann Arbor might try to do it all themselves and can get very frustrated in the process. A designer with a trained eye can help with aesthetic decisions that may not come easily to everyone. Choosing your favorite color might sound exciting but is not always the best decision for the layout of your home. The many nuances of color in an interior space can be orchestrated well by someone with experience.
Satisfaction
It's no surprise that a color consultant has the skills to enhance your home, whether it be for you, your family or for resale. A professional can ensure you achieve the look you desire for your home.